>>Español
Elsa and José met early in 2007. Having come from different backgrounds and varying musical experiences, they joined on the stage for the first time as the principal performers in a Flamenco show. The chemistry was immediate.

Since they started to perform together their mutual interests took them beyond Flamenco and into other areas of Latin music. They now have a show that includes these styles as part of an elegant and romantic performance.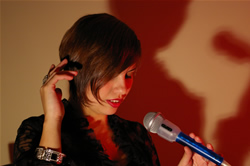 Elsa Rojas Márquez

Originally from Cordoba, in the state of Veracruz in Mexico, her Spanish/Italian roots blend an authentic sensitive art and naive charm with a fiery expressive performance!

Elsa has performed since childhood as a singer as well as in poetry recitals and oratory contests. She performed frequently in theatres around the state of Veracruz, in notable venues such as Agustin Lara's Little White House and Museum where she was fortunate to sing in the "Miercoles Bohemio" (Bohemian Wednesday). She has been accompanied on the piano by the famous musician and composer Memo Salamanca who worked with world-renowned Latin American artists such as Celia Cruz, D&aacutemaso P&eacuterez Prado and Jos&eacute Jos&eacute. She also performed in Cordoba, Veracruz as the lead singer of the Culture House Chorus. Elsa has sung as a solo artist with Mariachi bands, Trios and Marimba groups and folkloric events for over 20 years.

After moving to Vancouver in 2001 Elsa joined a choral group, but found that her true passion lies in her Spanish roots as a singer of Latin American and Flamenco music.
Elsa's unique style combines great emotional power as brought out by the Mexican "Ranchero" song and the Flamenco "Cante Jondo", along with the delicate sensitivity of Spanish "Boleros" and "Baladas" and then the spicy touch for the singing of Rumbas! Elsa never ceases to gain passionate applause with the sincerity and raw emotion of her performances.
| | | | | | |
| --- | --- | --- | --- | --- | --- |
| In 2011 and 2012 Elsa was nominated for the Ethel Tibbits Women Distinction Awards in the category of Arts. | | 2011 | 2012 | | Elsa's beauty and grace have inspired artists to paint her. See the artwork of Lorraine Wellman, featured at the Steveston Folk Guild on October 21. |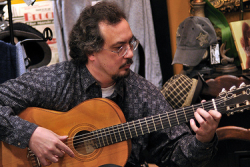 Jos&eacute Gim&eacutenez

Jos&eacute Gim&eacutenez hails from a family of Spanish descent in the Philippines. He spent a large part of his youth living in South America, where he was greatly influenced by its music. Jos&eacute has been playing Classical Guitar and Flamenco for over twenty years.

Jos&eacute embraces the Spanish and Latin American cultures as his own, and as such has in his repertoire not only Flamenco songs but Classical Guitar music, Boleros, Rancheras and other sultry Latin American styles. Jos&eacute has performed as a solo guitarist and as an accompanist for singers and dancers.

Jos&eacute is described as a "humble man, with the charm to capture an audience with his genuine style", and as a performer as "playful, joyful and genuine as he can be serious to hit the strings of his guitar while playing a serious Soleares or Seguiriya, transporting the audience to a magical soulful place".